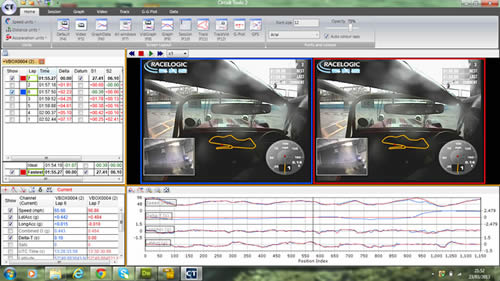 Video Vbox is a GPS based system providing state of the art video and data logging.
To assist with driver development, and to allow analysis of solo lapping, included in a days coaching is the use of a Video Vbox data logging system.
Using the Circuit tools program, I can analyse all aspects of a drivers performance, looking at:
Racing Lines
Positioning on the Circuit
Lap and Sector times
Speed trace
G Force plots
Lap on Lap, Sector on Sector comparisons
Through this analysis we can see exactly where time is won and lost, pinpoint areas that need to be looked at and improve all aspects of a drivers performance.
Included with your days coaching will be a memory stick with all of the data and video from your day, allowing you to take a look at the data in the comfort of your own home, or show the videos to friends and family.
Buy a Video Vbox
If you feel that the Video Vbox would be a welcome addition to your racing preparations, I can provide a system and help to install it into your car, then show you how the software works.