The main target during driver coaching is to help the driver to lap a circuit faster and more consistently with a greater level of skill and understanding.
To this aim I would look at some or all of the following:
Driver Comfort
Driving Position
Pedal Position
Driver Technique
Vision
Braking Techniques
Gearchange Technique
Steering Input
Throttle Application
Effects of Weight Transfer
Understanding Vehicle Dynamics
Advanced Techniques (Heel & Toe, Trail Braking etc)
Adverse Condition Techniques
Car Control
Consistency
Circuit Specific
Circuit Layout
Racing Lines
Reference Points
Use of Kerbs
Wet Lines
Racecraft
Qualifying Techniques
Startline procedure
Identifying Overtaking Opportunities
Defensive Driving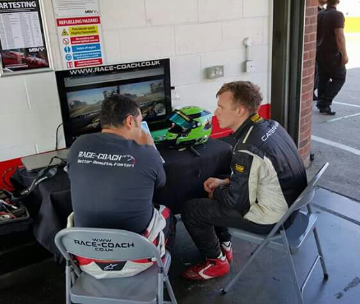 The format of the day would generally be 15 - 20 minute in car sessions followed by a debrief and analysis of the video vbox data.
As vehicle dynamics change dramatically with a passenger on board, once a level of understanding has been reached we will move to alternating sessions of in car coaching and solo lapping, this allows a driver to practice the techniques on their own and also get a good feeling of how the car behaves under normal racing circumstances. I will then get back into the car and we can refine the techniques further.